China Mobile Poster Promoting iPhone 5s/5c Surfaces Ahead of Final TD-LTE Standard Approval
An alleged China Mobile poster promoting the upcoming release of the new iPhone 5s and iPhone 5c on the network has surfaced, reports Unwired View. The poster touts the theoretical 100Mb/s download speed that the new devices are set to support on China Mobile's TD-LTE network. Chinese officials approved the iPhone to run on China Mobile's network earlier this month.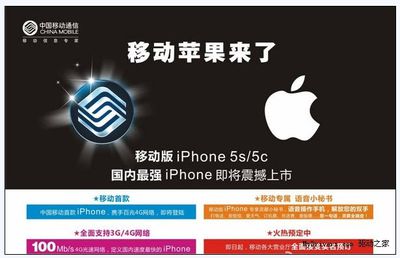 The only thing that's missing- is the permission from Ministry of Industry and Information Technology (MIIT) [for China Mobile] to light-up the TD-LTE network for commercial use.

This permission is coming pretty soon. There is a lot of discussion about how soon exactly, but now we can stop speculating about the worst case scenario. According to MIIT minister Miao Wei, the first 4G licenses will most definitely be issued by the end of the year. Though the informed sources inside MIIT are whispering much earlier date – middle of October, with China Mobile's 4G network going live soon after – in November.
A deal between China Mobile and Apple has reportedly long been in the works, with China Mobile Chairman Xi Guohua and Apple CEO Tim Cook meeting in July to discuss "matters of cooperation", with the former indicating that he felt optimistic about a potential deal leading up to the announcement of the new phones. The introduction of the iPhone 5s and iPhone 5c earlier this month also brought band tweaks that combine support for US carriers AT&T and Verizon in one model, but also notably added support for China Mobile's network.