Fixed Apple TV 6.0 Update Reinstated After Being Pulled for Bricking Issues
The Apple TV 6.0 update that Apple pulled over the weekend is now once again available for download. As noted by 9to5Mac, the updated version carries a build number of 11A502, compared to the old 11A470e version, indicating Apple has made some changes to the software.
Following the software's initial Friday release, there were multiple reports that the update caused critical errors for a number of users, necessitating a full iTunes restore. The newly updated software presumably fixes those issues.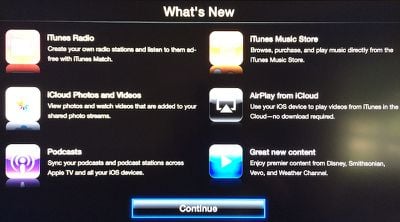 The Apple TV's 6.0 software offers a number of new features, including iTunes Radio, iTunes Music Store purchases, iCloud Photo updates, Podcasts, and AirPlay from iCloud. It can be downloaded from via the Update Software tool in the Apple TV settings menu.