Apple today began offering refurbished units of its mid-2013 11-inch MacBook Air models in its online store. The move comes a little over three months after they were announced in June, and both stock configurations are currently available. The current 13-inch MacBook Air has yet to appear in Apple's store for refurbished products.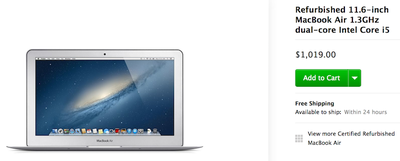 Both models include Intel's Haswell processors and "all-day" battery life along with 4GB of RAM, and are offered at a 15% discount off of Apple's prices for brand-new units. The 128GB model is available for $849, a $150 discount from the standard price of $999, while the 256GB model is available for $1,019, a $180 discount from the standard $1,199 price.
Apple's refurbished units come equipped with the same one-year warranty that brand-new products carry and have been thoroughly tested for reliability. The units also come with brand-new batteries and outer shells.