Apple Rolls Out New 'Kids' Category on App Store
Apple has unveiled a new Kids category on the App Store [Direct Link], MacStories noted. The page includes multiple sections, including the best apps for certain ages, games specifically for kids, and different types of learning apps like 'Create & Play' and 'Shapes & Colors'.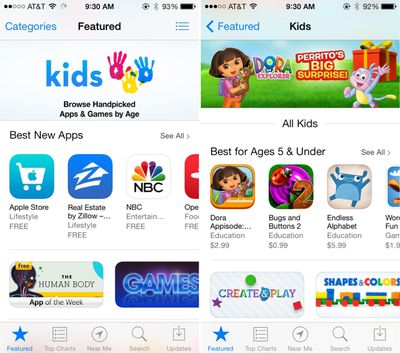 First announced at WWDC in June alongside iOS 7′s developer debut, the Kids category is aimed at facilitating the process of finding apps and games based on age ratings. The category is curated by Apple editors, who, according to the company, "search the App Store for the best apps in each age group — up to 11 years old".
Back in August, Apple sent emails to developers asking them to submit apps for the new category.
The Kids section is viewable on the App Store on iOS devices, as well as iTunes on Macs and PCs.