Alleged iPhone 5S User Guide Photo Highlights Fingerprint Sensor As 'Touch ID'
The much-rumored fingerprint sensor in the iPhone 5S may be referred to as "Touch ID", according to an alleged new photo of an iPhone 5S user guide uncovered by Nowhereelse.fr [Google Translate].
The photo features what looks to be an iPhone 5S running iOS 7 and also shows off the rumored silver ring around the home button.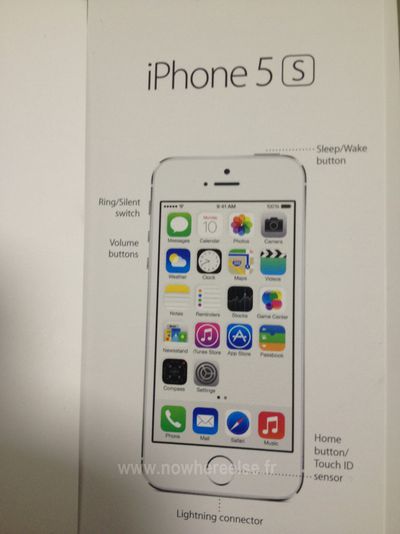 However, the photo also appears to showcase a slight departure for naming conventions for iPhone buttons in user guides, referring to "Volume Buttons" and "Sleep/Wake button" instead of the usual "Volume Up/Down" and "On/Off Sleep/Wake". Although the naming conventions in this photo do appear in the user guides for some iPod and iPad models.
Late last night the Wall Street Journal confirmed that the new iPhone, which is set to be unveiled early Tuesday at a press event at Apple's Cupertino, CA headquarters, will feature a fingerprint sensor.
In recent weeks and months the support for an iPhone with a fingerprint sensor has gathered steam, with questionable photos of iPhone 5S packaging, leaked parts and iOS 7 beta code hinting that the new hardware feature is forthcoming.
The new iPhone will be unveiled today at 10:00 AM Pacific Time at Apple's Cupertino headquarters. MacRumors will have live coverage of the event.
Update: Several other pages from the guide have been posted by C Technology, but they primarily show safety and warranty information and do not reveal any other details on the device.