Apple Patent Application for Combination Fingerprint Scanner and NFC Circuitry Surfaces
Apple has filed for a European patent (via Free Patents) detailing a system for combining a fingerprint scanner with near field communication (NFC) technology, allowing for dual modes of operation in a single space-saving design. The patent application was published yesterday and discovered by Patently Apple.
The European patent application is derived from a U.S. patent application filed in March 2012 and quietly published on Thursday without mentioning Apple as the assignee, and the applications describe the fingerprint/NFC circuitry as embedded into a button or other surface included on a mobile device. That implementation lines up with numerous rumors of a fingerprint-scanning home button being included in Apple's upcoming iPhone 5S, although the potential inclusion NFC on the iPhone 5S has not been a frequent topic of rumor discussion.
A touch sensor or fingerprint sensor may have an array of conductive electrodes for gathering sensor data from the front face of an electronic device, an edge of an electronic device, a button in an electronic device, or other portion of an electronic device. A fingerprint sensor or other sensor may also be formed using optical structures such as one or more light sources and receivers.

Near field communications circuitry may be included in the electronic device. Circuitry such as filter or switching circuitry may be used to couple both the near field communications circuitry and the sensor circuitry to a common conductive structure. This allows the conductive structure to be shared between sensor functions such as fingerprint or touch sensor functions and near field communications functions.

Control circuitry within the electronic device may operate the device in multiple modes. When operated in a sensor mode, the sensor circuitry may use the conductive structure to gather fingerprint data or other sensor data. When operated in near field communications mode, the near field communications circuitry can use the conductive structure to transmit and receive capacitively coupled or inductively coupled near field communications signals.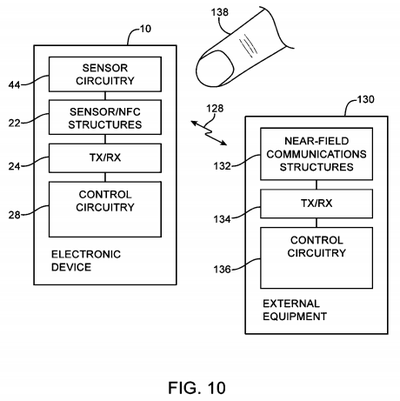 Beyond the home button, Apple suggests that other areas on a mobile device can be used to house the combination sensor, including but not limited to the device's screen, ear speaker, side bezel, and built-in bottom speaker, as well as other inactive areas on the phone such as next to the home button or near the headphone jack.


Notably, the patent also discusses and depicts a metal ring around the home button and its embedded sensor, something that has been seen on photos of what is alleged to be packaging for the iPhone 5S. Previously, KGI Securities analyst Ming-Chi Kuo indicated that the phone will have a sapphire-covered convex home button to support the fingerprint sensor, but more recent reports have claimed a relatively non-distinct design for the home button that may contain a shinier border as seen in the photos of the packaging.


Apple will unveil the next-generation iPhone 5S and the low-cost iPhone 5C during an iPhone event next Tuesday. In addition to a fingerprint sensor, the iPhone 5S is expected to have an upgraded processor, an improved camera, and a new "champagne" color option.