A7 Processor to Be 31% Faster and 64-Bit, iPhone 5S to Support Motion Tracking?
The next-generation A7 processor in the iPhone 5S will be roughly 31 percent faster than the current A6, according to a tweet by Fox News' Clayton Morris. His sources have also mentioned a "separate chip devoted to motion tracking".
It's unclear how Apple would use motion tracking abilities, but it could be developing a new control scheme that uses motion gestures like Samsung has built into its Galaxy S series of smartphones. A profile of Jony Ive by Bloomberg earlier this year may support this hypothesis:
Longer term, Ive also has shown interest in altering how people control their computers. He has met with makers of gesture technology that lets people navigate their gadgets by moving their hands -- without touching the screen, said a personal familiar with those interactions.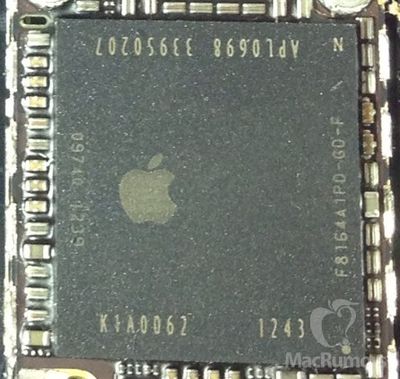 Main A-series chip from prototype iPhone 5S
Separately,
9to5Mac
's Mark Gurman writes that Apple has been
testing 64-bit prototypes
of the A7 chip, potentially for use in the iPhone 5S.
We've independently heard claims that some of the iPhone 5S internal prototypes include 64-bit processors.

It's unclear if 64-bit will make the cut, but it's been in testing. We're told that the 64-bit processing will make animations, transparencies, and other iOS 7 graphical effects appear much more smoothly than on existing iOS Devices…
Last September, semiconductor analyst Linley Gwennap claimed that Apple was working on a 64-bit ARMv8 solution for launch in 2014, and Apple may simply be testing future processor architectures in iPhone 5S prototype units. That report claimed the logical upgrade for the A7 would be a quad-core architecture and continued increases in graphics capabilities.
Previous leaks have shown an A7 chip -- pictured above -- with an Apple model number of APL0698, while the original A6 had a model number of APL0598. The A6X found in the fourth-generation iPad carries an APL5598 model number, demonstrating how Apple varies the first digit for members of a given A-series family and increments the second digit when transitioning to a new family.
The iPhone 5S is expected to be unveiled at a media event on September 10.