Apple TV Updated with New Live Streaming Channel for September's iTunes Festival
Back in late May, Apple announced that it would once again be holding its annual iTunes Festival in September, a monthlong series of free concerts at The Roundhouse in London. Just as it did last year, Apple has added a new channel to the Apple TV to offer live streaming and limited time on-demand replays of the concert series.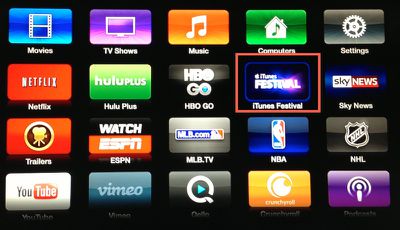 The concert series kicks off on September 1 with Lady Gaga and includes a number of popular artists including The Lumineers, Queens of the Stone Age, Kings of Leon, Elton John, Vampire Weekend, Jack Johnson, Robin Thicke, and Justin Timberlake before closing on September 30 with Katy Perry.


The Apple TV channels includes a complete schedule, brief bios of the performers, a video trailer, information about the concert venue and ways to watch the concerts, as well as small photo galleries from the previous three festivals.
Free tickets for the shows are available via a lottery system to UK residents, with media partners in a number of other countries also giving away tickets through promotional campaigns.
Update: Apple has also updated its iOS app for the 2013 edition of the festival. [Direct Link]
(Thanks, Kyle!)