iTunes Festival 2012 Live Streaming App Appears on Apple TV
Back in May, Apple announced that its annual iTunes Festival in London would be moving to September for 2012, with the event once again offering 30 days of free concerts at The Roundhouse. While tickets to the shows have been awarded on a lottery basis, Apple this year is offering access to the concerts with a number of live streaming options including through the iTunes Festival website, through a dedicated universal iOS app, and through Apple TV.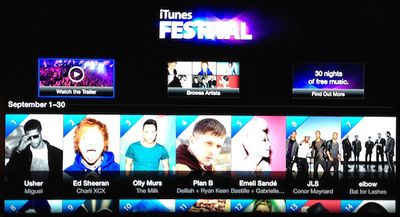 For those interested in watching the shows on Apple TV, the company has just pushed out an automatic update adding the iTunes Festival app to users' set-top boxes, making it easy for users to access the shows from the main menu of the device.
This is not the first time Apple has experimented with delivering live content directly to the Apple TV, as the company earlier this year offered a live stream of a Paul McCartney concert through both iTunes and the Apple TV.
The 2012 iTunes Festival kicks off on September 1 with Usher and runs daily throughout the month until closing with Muse on September 30.