Apple Announces 2013 iTunes Festival in London Scheduled for September
Apple today announced that it will once again hold its monthlong iTunes Festival in London this year, with 30 nights of concerts at The Roundhouse during the month of September. The full schedule of performances is yet to be announced, but Apple has revealed that the lineup will include Justin Timberlake, Thirty Seconds to Mars, Jack Johnson and Jessie J.
"This year's iTunes Festival is the best ever with an incredible lineup of global superstars and stellar emerging artists," said Eddy Cue, Apple's senior vice president of Internet Software and Services. "Music fans around the world are going to love watching this incredible month of music, whether in London at the Roundhouse or on their iOS device. We're honored so many renowned artists are part of this year's lineup."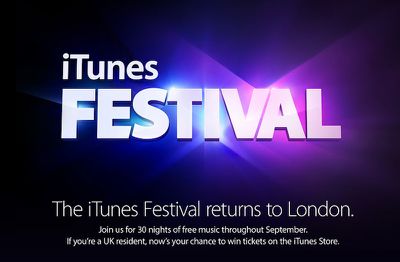 Free tickets for the concerts are available through iTunes in a lottery system, with media partners in the United States, Australia, Brazil, Canada, Europe, Japan and Mexico also giving away tickets as part of promotional competitions. The concerts will also be broadcast via iOS app, iTunes on the computer, and Apple TV.
Apple also typically releases a series of live EPs from each year's shows through the iTunes Store.
Apple traditionally sponsored the iTunes Festival each July since its inception in 2007, but last year moved the festival to September and has opted to keep to that schedule for 2013. More details on the concert lineup and schedule will be released over the coming weeks and months.