The Wall Street Journal reports that Taiwanese manufacturer Hon Hai Precision Industry Co., better known as Foxconn, is ramping up its television production through an exclusive partnership deal with 7-Eleven, a convenience store chain. The move comes after a report earlier this year indicated that Foxconn was at least partially pushing its television production forward in anticipation of landing a deal with Apple for its own television set products.
7-Eleven, which is owned in Taiwan by Uni-President Enterprises Corporation and currently has around 5,000 stores scattered across the island, is selling the televisions under its own 7-Eleven branding priced at NT$ 12,888 ($430) for the 40-inch model, NT$ 39,990 ($1,333) for the 60-inch model and NT$ 69,900 ($2,336) for the 70-inch model. As of yet, Foxconn has not divulged any sales figures relating to its television business, though it is reported that the company has sold over 10,000 7-Eleven branded sets in the past six weeks.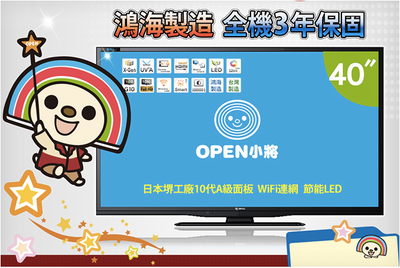 The move marks a shift in Foxconn's sales strategy towards OEM, or original equipment manufacturing, whereby the goods are purchased by another company and sold under their own brand name -- in this case, 7-Eleven. Previously, Foxconn manufactured under ODM, or original design manufacturing, whereby the products were designed and specified by another company (such as Apple).
The company has been manufacturing television sets since 2008 and has since acquired manufacturing facilities previously owned by the Sony Corporation. Last week, it was reported that Apple is currently in the development stages of manufacturing a television set, and is partnering with Foxconn, Corning, G-Tech Optoelectronics and Innolux. The "iTV" has been rumored for several years now, although there have yet to be any firm signs of the project moving toward a launch.