Foxconn's Push Into Televisions Hints at Preparation for Possible Apple Television
The New York Times reports on Foxconn's efforts to diversify its business, recognizing that while Apple is and will remain an important customer currently responsible for about 40% of Foxconn's revenue, it needs to tap into other markets in order to improve its own stability.
One major push for Foxconn has been the television market, where it has invested with Sharp in an LCD panel factory in Japan and begun releasing its own televisions in partnerships with RadioShack and Vizio.
Analysts say Foxconn's strategy satisfies two seemingly contradictory goals. The company does not want to compete with clients directly, because it has TV assembly orders from Sony, Sharp and Toshiba. [...] But it needs to absorb excess LCD panels produced by the Sakai factory to take advantage of the lower manufacturing cost per unit. Therefore, Foxconn negotiates with partners to sell the television at or below its production cost.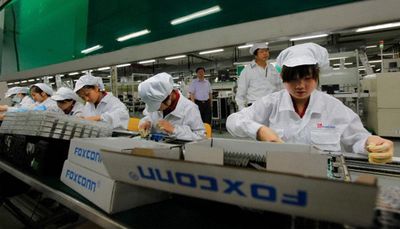 Despite the push into televisions, including the partnership with Vizio, which is the top-selling brand in the United States for television over 60 inches, Foxconn is said to need additional large partners with Apple viewed as the primary target.
Analysts say Mr. Gou's efforts to buy an LCD factory and vertically integrate his television manufacturing represent anticipation that orders for an Apple television product will come his way.

"Their gamble now is if Apple will put out a TV, and they should know better than anyone else in the world," said [Thompson] Wu, the Credit Suisse analyst. "They're making a bet that it'll work."
Almost exactly one year ago, Foxconn chairman Terry Gou was initially reported to have confirmed that the company was making preparations for an Apple television set, but the company quickly clarified the situation to deny that any specific acknowledgement had been made.
Foxconn noted that Gou had refused to discuss or speculate on any specific product and merely stated generally that Foxconn is "always prepared to meet the manufacturing needs of customers should they determine that they wish to work with Foxconn in the production of any of their products".