Photos of Top Strip of iPhone 5S Rear Shell Again Point to Dual-LED Flash
Following a report from last week that showed a clear photo of an alleged camera module, French website Nowhereelse.fr [Google Translation] has reposted photos of parts that appear to be the top and bottom strips for the back of the iPhone 5S. The photos were originally posted by a user on Chinese microblogging site Sina Weibo who regularly pulls together photos and other leaks from various sources.
Notably, the space for the flash modules on the top strip appear to have spacing for a dual-LED flash, which is consistent with a December 2012 prototype iPhone 5S that leaked back in June. A dual-LED flash would improve the performance of the iPhone's flash, creating better lit, less harsh flash photos in low light conditions.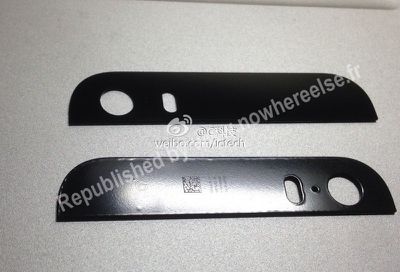 Yesterday, a report surfaced claiming that the rear camera on the iPhone 5S would retain the same 8-megapixel resolution found in its predecessor, but will feature a wider f/2.0 aperture to capture more light while taking photos. Apple will reportedly unveil the next-generation iPhone on September 10, but it is still unclear whether the event will focus singularly on the iPhone 5S or include the announcement of the lower-cost iPhone as well.