Apple Updates Apple Store App with Free iBookstore Offering
Apple has quietly launched an over-the-air update to its Apple Store app today, replacing its first free content offering, Color Zen, with the children's book Away in My Airplane by Margaret Wise Brown.
The free iBook offering was detailed in a note to Apple's retail employees this morning (via 9to5Mac), notifying them that the download is intended to give them a reason to discuss the iBooks app and the iBookstore when communicating with customers.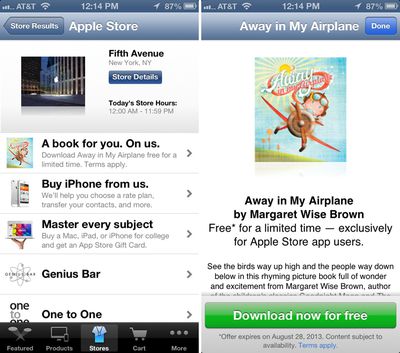 Earlier this month, Apple launched an "iBooks Discovery" initiative, providing its employees with free iBooks in order to prepare them for the launch of OS X Mavericks and iOS 7. Mavericks will include the first Mac iBooks app, allowing users to read ePub files on their desktop computers.
Apple has begun offering free content via its Apple Store app in order to entice customers to download and visit the app on a regular basis, increasing their exposure to Apple products. The effort is part of a push to boost in-store sales of the iPhone, as 80% of Apple's iPhone customers purchase their phones at third party retail locations. In a July meeting, Tim Cook noted that he would like to increase the company's iPhone sales, as it is considered to be Apple's central "gateway product."
Apple has also initiated other programs to increase iPhone sales, including an upcoming trade-in program and a Back to School program that offers customers a $50 gift card with the purchase of a new iPhone.
Away in My Airplane will be available through August 28 in the United States, United Kingdom, Italy, France, and Sweden. Not all customers appear to have access to the new book at this time, which likely means Apple is delivering the update on a rolling basis.