As noted by ZDNet, scammers have launched a new round of phishing emails on the heels of an outage of Apple's Developer Center late last week. The email offers the recipient access back into their accounts if they click on a link posing as an official Apple page. However, the page is actually located on another site and proceeds to take the account credentials of the user if they log in on the page.
Phishing attacks targeting Apple customers are regular occurrences given the size of the company's user base. But with many casual users perhaps only vaguely aware of Apple having had a recent problem with some of its online services, they may now be more likely to fall victim to such an attack.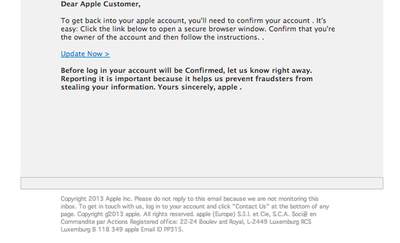 Earlier this week, independent security researcher Ibrahim Balic speculated that he may be responsible for the breach that caused the extended outage of Apple's Developer Center, which for the most part remains offline one week after it was taken down by Apple. Yesterday, Apple outlined a plan for bringing its Developer Center back online, and also created a status page to display the availability of its services.