Apple's Developer Center has been down for more than a day now, with no word from Apple on the reason behind the outage. MacRumors first began receiving reports of the downtime on July 18, at approximately 7:30 a.m. PT.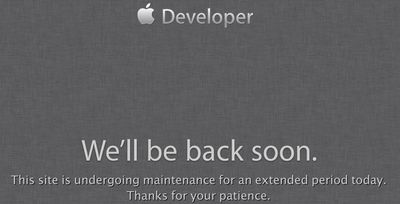 Since that time, developers have been unable to access the site and cannot visit the forums or download Mac or iOS SDKs, the iOS 7 beta, or the Mavericks beta. Though the Developer Center is offline, Apple's developer site is still accessible.
While the Dev Center often experiences downtime, many developers have stated on Twitter that the length of the outage is unusual. At this time, there is no indication of when the Developer Center might come back online. "This site is undergoing maintenance for an extended period today," reads the text. "Thanks for your patience."
Update: Apple has updated the notice on its Developer Center site, noting that developer memberships set to expire during the outage will be extended.
We apologize that maintenance is taking longer than expected.
If your program membership was set to expire during this period, it has been extended and your app will remain on the App Store. If you have any other concerns about your account, please contact us.

Thank you for your patience.