Consumers Less Willing to Pay for Content as Free Apps Surge
According to a new report from mobile analytics firm Flurry, free apps supported by ads and/or in-app purchases are becoming an increasingly popular choice for developers and consumers alike, with 90% of iOS apps now being offered for free. In 2012, that number was just 84%, marking a 6% increase over the past year.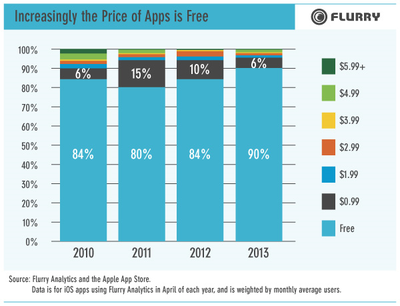 Some might argue that this supports the idea that "content wants to be free". We don't see it quite that way. Instead, we simply see this as the outcome of consumer choice: people want free content more than they want to avoid ads or to have the absolute highest quality content possible.
Flurry also compared the pricing of both Android apps and iPhone and iPad apps, finding that iOS users are generally more willing to pay for content. The average Android app price as of April 2013 was $0.06, while the average iPhone app price was $0.19.
iPad apps have traditionally been more expensive with developers charging a higher premium for more screen real estate, which caused the average iPad app price to be a good deal higher than Android or iPhone apps at $0.50. iPad apps, on average, are priced 2.5 times higher than iPhone apps and eight times higher than Android apps.


Due to the uptick in free apps, Flurry suggests that consumer behavior indicates ad-supported content will continue to surge, and that ads in apps are a "sure thing for the foreseeable future."
Flurry collects its data from the more than 350,000 people that access its Flurry Analytics tools.