Verizon Could Face Up to $14 Billion in Unsold iPhone Purchase Commitments for 2013
Bloomberg yesterday reported on a research note from analyst Craig Moffett pointing out that Verizon could potentially face a massive bill from Apple of up to $14 billion this year based on current iPhone sales rates and the carrier's commitment to purchase a minimum number of iPhones from Apple.
Under a multiyear deal signed with Apple in 2010, Verizon Wireless is obligated to buy $23.5 billion worth of iPhones in 2013 alone, according to Craig Moffett, a telecommunications analyst who left Sanford C. Bernstein & Co. earlier this year to start his own research firm. Since the purchase commitment is more than twice what Verizon Wireless sold in 2012, the company may have a shortfall of $12 billion to $14 billion, worth $4 to $5 per share, Moffett said in the report.
Apple routinely requires new iPhone carriers to commit to purchasing a certain number of iPhones over a period of years, a requirement that has led some carriers to balk at offering the device.
As Moffett points out, Apple's contract with Verizon requires the carrier to purchase more than twice as many iPhone this year as it did last year. During the first quarter of 2013, Verizon activated four million iPhones on its network, a figure representing roughly $2.5 billion in hardware value at Apple's average selling price of about $613 per unit.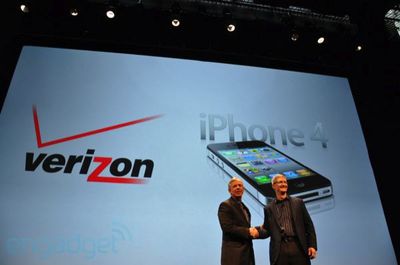 While the first quarter may have been a somewhat slower one for the iPhone at Verizon following the iPhone 5 launch in September 2012, it only represented a 25% increase in units over the first quarter of 2012, indicating that the carrier is indeed well behind pace for meeting its purchase requirements for 2013.

Amounts in millions of dollars (Source: Moffett Research, company reports)
Apple is expected to introduce an upgraded iPhone 5S later this year, with a lower-cost plastic iPhone also apparently in the works, but it seems unlikely that those launches will be able to generate the massive increase in sales volume needed at Verizon to meet the carrier's contract requirements.
Moffett notes that it is unlikely Apple will require Verizon to pay the full amount of any shortfall this year, particularly if it reaches the $12-14 billion amount estimated by Moffett, but that any renegotiations will likely see Apple extracting some concessions from Verizon as the iPhone maker seeks to hold other carriers to their commitments.
Update: Nomura analyst Stuart Jeffrey has released his own note examining the situation and concurs with Moffett that Apple and Verizon are in a difficult spot. Verizon disclosed at the end of its 2012 financial statements that it holds $23.5 billion in purchase commitments for 2013, with Moffett and Jeffrey both believing that the iPhone accounts for the vast majority of that amount.
Jeffrey notes that Verizon could still satisfy its obligation by making a massive advance purchase of iPhones for 2014 at the end of 2013, although such a purchase would obviously have an effect on any purchase requirements to be built into a renewal contract with Apple. Alternatively, Apple could simply allow Verizon to roll over its commitment into 2014 in order to prevent Verizon having to make a massive expenditure at the of the 2013, although such an allowance would undermine Apple's minimum purchase agreements with other carriers.