While iOS apps like Evernote and Instapaper are able to provide users with in-app auto-renewing monthly subscriptions for services, the same functionality is not available in the Mac App Store at the current time.
For example, Evernote is able to offer a renewable monthly subscription to its premium service via iOS, charging $5 per month. On the Mac App Store, however, Evernote cannot offer a subscription, instead requiring users to sign up each month or purchase a year of service in advance.
As 9to5Mac notes, that is set to change in OS X Mavericks, with the introduction of Auto-Renewable Subscriptions for Mac Apps.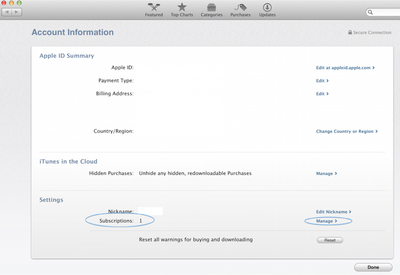 With the release of Mavericks, Mac developers will be able to provide services on an ongoing monthly basis with charges routed through the App Store's in-app purchase system. As with the iOS App Store, developers will be able to offer both ongoing subscriptions and subscriptions that expire after a set time, automatically charging a user's iTunes account.
Mac App Store subscriptions in Mavericks will be managed in the Mac App Store's account information panel, which has been updated with a new subscription management setting.
OS X Mavericks was previewed at Apple's Worldwide Developers Conference in June. It is currently available for developers, and is expected to be released to the public in the fall.