Alleged iPhone 5S Batteries Photographed on Production Line
French site Nowhereelse.fr shares [Google translation] a photo of what are claimed to be trays of batteries for the iPhone 5S coming off of a production line. While their identity as iPhone 5S batteries can not be confirmed due to a lack of markings on them, if the claim is true it would be further evidence that production is indeed ramping up for the next-generation iPhone.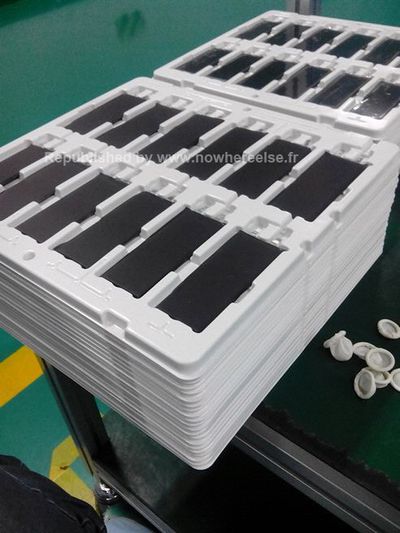 Alleged iPhone 5S batteries
Over the past week, we've shared
several photos
of a
prototype iPhone 5S
manufactured in December 2012, revealing that the battery offers a higher capacity than the iPhone 5 battery, moving from 5.45 Whr and 1440 mAh to 5.92 Whr and 1560 mAh, an increase of roughly 8%.

Battery from December 2012 iPhone 5S prototype
Our photos show that the battery in the prototype iPhone 5S is itself a prototype, with a number of placeholders for various regulatory logos and identification numbers.
Earlier this week, a photo of iPhone 5S display assemblies on a production line also appeared, with the new parts identifiable by a change in the design of the flex cable connectors.
The iPhone 5S is expected to be introduced later this year, with the September timeframe being the most commonly claimed window for launch.