First announced in April, Avid's upgraded video editing and audio production tools, Media Composer 7 and Pro Tools 11, are now available for purchase.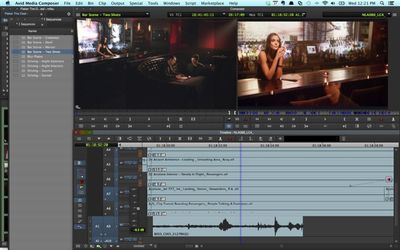 Media Composer 7, Avid's professional video editing software, is being offered at a significant discount though it offers a number of new features including FrameFlex tools and automated media management tasks.
Media Composer is the most widely used NLE for professional film and video editing. With Media Composer 7, you gain accelerated high-res-to-HD workflows, automated media management, and Interplay Sphere for Mac support (Media Composer 7 Interplay Edition only—available from Avid resellers and sales reps, extending real-time production everywhere. Experience the fastest file-based media workflows, ACE-certified tools, and the most trusted media management in the industry, now at a lower price.
ProTools 11, which launched last week, is Avid's flagship audio production software. The updated version features the new Avid Audio Engine for increased processing power, additional virtual instruments and effects, and 64-bit performance. Among other upgrades, It also comes equipped with an optimized Workspace Browser and new key command workflows for improved efficiency.
The most powerful digital audio workstation just got more powerful. Pro Tools 11 redefines professional music and audio production for today's workflows. From all-new audio and video engines and turbocharged 64-bit performance, to expanded metering and new HD video workflows, Pro Tools 11 enables you to take on the most demanding sessions and maximize your creativity—without holding anything back.
Both Media Composer 7 and Pro Tools 11 can be purchased from the Avid Store for $999 and $699, respectively. Older Pro Tools users can upgrade with a $300-$500 fee. Existing Media Composer users can upgrade to version 7 for $299 to $399.
While the Media Composer 7 Interplay Edition ($1,499) is not available through the Avid website and must be purchased from an Avid reseller or sales rep, the Symphony Option can be purchased separately for $1,499.