Avid Announces Media Composer 7 and Pro Tools 11, iOS Compatible Recording Hardware
Avid today announced new versions of its flagship video editing and audio production applications Media Composer 7 and Pro Tools 11, as well as two new Mac- and iOS- compatible hardware interfaces for recording audio at home or on the road.
In addition to a number of new features, Media Composer 7 receives a significant price cut, bringing the standard edition to $1000, down from $2500. It will be available in June.
ProTools 11, which Avid says "represents a quantum leap in creative power", gains a redesigned audio engine and 64-bit architecture. The standard edition of Pro Tools 11 is available for $700, with upgrades ranging from $300 to $500 depending on which previous version of Pro Tools is owned. The new version should be available later this quarter.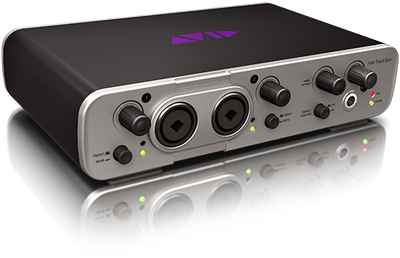 The Avid Fast Track Solo and Duo include Pro Tools Express for recording and editing audio on a Mac, and also connect directly to the 30-pin connector on older iOS-hardware, and to newer iOS devices via the 30-Pin to Lightning adapter.
The Solo provides one mic preamp and one instrument input, while the Duo provides two mic preamp/instrument inputs, and two line inputs.
"Today's aspiring songwriters and musicians want a high-quality, affordable recording solution that's portable enough to let them create wherever they are," said Dana Ruzicka, vice president of Segment and Product Marketing at Avid. "Providing access to the industry-standard Pro Tools family, Fast Track Solo and Duo deliver this capability like nothing else on the market today."
The Fast Track Solo and Duo are available now for $180 and $300 respectively.