Adobe Releases New Creative Cloud Apps
Back in May, Adobe announced plans to abandon its Creative Suite to focus on several new Creative Cloud apps, including Photoshop CC, InDesign CC, Illustrator CC, Dreamweaver CC, and Premiere Pro CC, among others.
As of today, those apps have been made available for users on a subscription basis. While all of Adobe's previous Creative Suite apps are available in Creative Cloud, a number of the apps have received significant upgrades.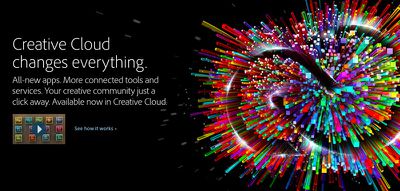 Photoshop CC, for example, offers impressive new features like Smart Sharpen, Camera Shake Reduction, Behance integration, and more. In addition to updated apps, Creative Cloud also offers a synced, cloud-based design experience and streamlined collaboration tools.
We couldn't be more pleased to announce that our new family of Creative Cloud desktop apps, and many of the powerful publishing and collaborative features that we announced at Adobe MAX in May, are now available. These include:

- Hundreds of new features in new versions of the apps you love, including Photoshop CC, Illustrator CC, InDesign CC, Adobe Muse CC, Dreamweaver CC, Edge Animate CC, Adobe Premiere Pro CC, After Effects CC, and more. Your Creative Cloud membership includes more than 30 tools and services that enable professional-grade content creation and delivery across print, web, mobile apps, video and photography.

- The new Creative Cloud app for your desktop, which keeps your entire creative world in sync and organized. Download and manage the latest product updates, keep tabs on your work and your followers on Behance, and more – all right from your desktop.

- The ability to sync your application settings to Creative Cloud. Whether you use a Mac or PC —or both! — you can synchronize your workspace settings — including things like preferences, presets, brushes, and libraries. No more tedious fussing with your apps on a new computer. Just log in, sync, and get back to work.
Individual Adobe users will now be required to pay a $50 monthly fee to access the entire suite of apps and features, though additional pricing options are available for single app subscriptions, teams, and students. Subscribers who own CS3 or later will also receive a $10 per month discount.
While the new CC apps are cloud based, the software does not require a constant internet connection to function. Annual users are required to connect to Adobe's servers and check in after 180 days, while month-to-month subscribers will need to check in once per month.
More information about Adobe Creative Cloud and its included apps and features can be found on the Creative Cloud website.