The MagCozy, like the KeyBit, is an innovative solution that is designed to help Mac owners keep track of their MagSafe to MagSafe 2 Converters.
Apple's MagSafe 2, which was introduced with the 2012 MacBook Air and Retina MacBook Pro, is incompatible with original MagSafe Power Adapter, necessitating the use of a small converter to charge MagSafe 2 devices with MagSafe adapters.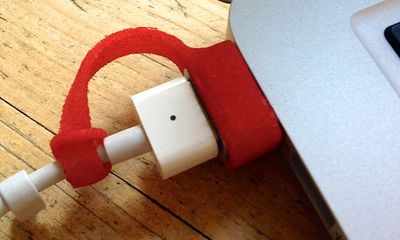 Currently featured on Kickstarter, the MagCozy leashes the converter to the cord of a power adapter, preventing the accessory from being lost or misplaced.
The MagCozy was inspired by a rubber band that attached the converter to the adapter, and the idea evolved into a simple but sleek sleeve that encompasses the converter and attaches to the adapter via a small loop. While the KeyBit was ideal for keeping a MagSafe to MagSafe 2 converter on hand while traveling, the MagCozy is ideal for home use.
Kickstarter backers can get a MagCozy in white, red, black, or blue for a pledge of $8. The designer, Ben Martinek, is also offering a limited edition MagCozy in an undetermined color and t-shirts for an additional fee.