Just over a year after plans for a new glass-enclosed Apple Store at the Stanford Shopping Center in Palo Alto, CA were unearthed, ifoAppleStore has obtained photos of the construction that offer the first non-rendered look at the new design aesthetic.
The photos show off the three floor-to-ceiling glass walls around the front of the store along with the structural steel that outlines the roof, which will be a free-floating white roof once it's complete.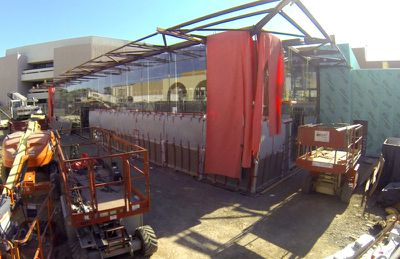 As ifoAppleStore notes, the majority of the structural steel has been erected and the glass front has been completed, though the glass still has to be coated in a thin, light-colored material that will give it a "floating" appearance.
This design is similar to new stores being built in Portland, OR and Aix en-Provence, France. Unlike the two other stores, however, the new Stanford store features a stone wall that separates the glass storefront from the standard Apple Store counters and tables.
The store, which is expected to be finished later this year, will replace the current Apple mini-store the at Stanford Shopping Center.