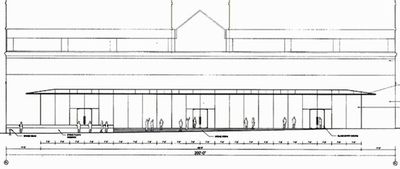 ifoAppleStore reports that architects quite obviously working for Apple have put forward a design proposal for a new retail store at the Pioneer Place shopping center in downtown Portland, Oregon. Replacing a typical mall-style store inside the center, the new store would cover the length of a city block and at 165 feet would carry the longest storefront in Apple's retail store chain.
According to the Design Advice Request submitted by two architects from Apple's architectural firm Bohlin Cywinski Jackson, the Apple store would have a 165-foot storefront, a 17½-foot tall interior and over 9,000 square-feet of public space. A notation on one drawing indicates the "gross square footage" of the entire project is 23,532, and the plaza totals 4,283 square-feet.

Currently, the widest storefront is George Street (Sydney) at 120 feet. This proposed store would be 45 feet wider than that. The elevation drawing shows that the storefront is composed of 22 glass panels, each 17½ feet tall and 7½ feet wide.


The lengthy storefront and the ten-foot wide public plaza fronting the space would give the store a significant presence at the shopping center, with ample space for pedestrian circulation inside and out.