Planning Board Rendering Unveils New Glass-Enclosed Apple Store for Stanford
The Palo Alto Online has unearthed plans for a new glass-enclosed retail store going in near the current Stanford mini-store at the Stanford Shopping Center in Palo Alto, CA.
The store will have three floor-to-ceiling glass walls enclosing the front of the store with a visually free-floating white roof overhead. This is a similar design to the new store being built in Portland, OR, as well as a new store in Aix-en-Provence, France. What makes this store unique, however, is the interior.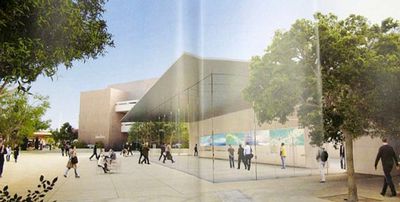 In the middle of the store, it appears that Apple's architects have placed a stone wall that separates the store into two distinct areas. A front area enclosed by glass walls, and a rear space that will include the standard Apple Retail Store product tables and counters.
From the Palo Alto Online:
One seasoned industry observer who had viewed the early drawings called the building design exquisite. "It makes an elegant and dramatic statement. It is destined to become Apple's flagship store," he said. The structure features a tall glass cube with an overhang that extends well beyond the building. "It makes the space between the outside and the inside almost indistinguishable," the source said, adding that it will bear some similarity to New York's Apple Store Fifth Avenue, which also has a distinctive glass cube as an entrance.
The new store replaces the Rugby Ralph Lauren and Williams Sonoma Home stores that were previously in the space. IFOAppleStore notes the store, designed by Bohlin Cywinski Jackson, is expected to open by the end of the year. The existing Stanford mini-store will be shuttered once the new location opens.