OS X 10.9 Build Number Suggests Extensive Internal Development
While many had expected Apple to follow last year's pattern and release a developer preview of OS X 10.9 early this year ahead of a summer public launch, the company has so far remained essentially silent about its plans for its next-generation Mac operating system. That silence does not, however, mean that Apple has not been working hard on the project since it first started showing up in web logs last fall.
As spotted by an AppleInsider reader, circumstantial evidence of Apple's work showed up in a WebKit bug report early last month revealing that version of OS X 10.9 in testing was Build 13A451. According to Apple's build number scheme, "13" refers to OS X 10.9, "A" refers to the 10.9.0 version, and "451" is part of a sequential numbering of compiled builds.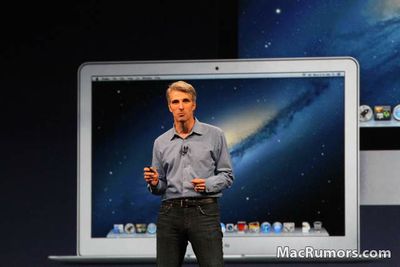 Apple Senior Vice President Craig Federighi introducing OS X Mountain Lion at WWDC 2012
AppleInsider
speculates that the relatively advanced "451" build number as of early May could indicate that Apple would be able to deliver a fairly mature version of OS X 10.9 to developers at its Worldwide Developers Conference next week, although there is no formal evidence for such a claim.
OS X Mountain Lion's initial developer preview arrived as Build 12A128p in February 2012, with Apple releasing several additional builds to developers before releasing it to the public as Build 12A269 in July of that year. OS X Lion apparently spent a longer time in overall development but a similar amount of time in developer testing, beginning developer seeding with Build 11A390 in February 2011 before being launched to the public as Build 11A511 roughly five months later.
Apple had indicated when it launched its first developer preview of OS X Mountain Lion last year that it was shifting to a more rapid yearly development cycle for OS X in order to bring more features to consumers more quickly. But with Apple yet to have begun seeding developers with versions of OS X 10.9 and the company reportedly having pulled engineers from OS X to work on iOS 7, there have been some questions about how closely Apple will be able to stick to its yearly release plan.