Apple's Smart Watch May Not Launch Until Late 2014, Use Biometrics and iPod Nano Technology
KGI Securities analyst Ming-Chi Kuo, who has on a number of occasions offered accurate information about Apple's product plans, issued a new research report this week outlining his expectations for Apple's rumored smart watch device, informally dubbed "iWatch". Despite some expectations that the device could launch later this year, Kuo believes that both hardware and software issues will result in the iWatch making its debut in the second half of 2014.
Apple may not have adequate resources to develop an iWatch version of iOS because it may require big changes to iPhone and iPad iOS this year. In addition, wearable device components aren't mature. For these reasons, we think mass production of the iWatch is more likely to begin in 2H14, not 2H13 as the market speculates.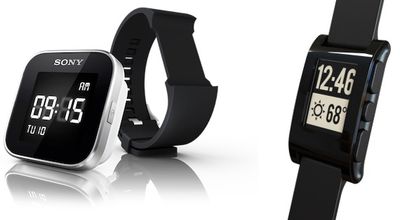 Sony SmartWatch (left) and Pebble e-paper watch (right)
On the hardware front, Kuo projects that the iWatch will use a 1.5-2.0 inch display and unsurprisingly believes that Apple will draw on the iPod nano when it comes to components, particularly with respect to the main processor and the touch technology.
Currently, the iPod nano uses the same GF2 touch technology as used by the iPad mini. Since the size and computing ability requirements of the iWatch are similar to those of the iPod nano, we think iWatch will use iPod nano's GF2 touch technology and AP [application processor].
Further, Kuo believes that biometrics will be a key feature for the iWatch, allowing for increased security and opening the door to broader health-related applications. The biometric support should also aid in building out the cross-device integration many expect to see from the iWatch.
Rumors regarding Apple's smart watch project have been relatively quiet over the past few months, although a report from earlier this week claimed that Apple is testing 1.5-inch OLED displays for the device, with Foxconn said to be gearing up for a trial run of 1,000 devices.