AT&T's GoPhone Prepaid Brand to Gain iPhone and LTE/HSPA+ Support Tomorrow
MacRumors has learned that AT&T's GoPhone prepaid wireless brand will be undertaking a significant expansion of its services starting tomorrow, offering support for AT&T's fastest LTE and HSPA+ data networks for the first time and also adding official support for the iPhone.
Until now, GoPhone has allowed iPhone users to sign up for service, but without cellular data access. With the changes coming tomorrow, the iPhone will have access to the full range of AT&T services through GoPhone, including LTE data and Visual Voicemail.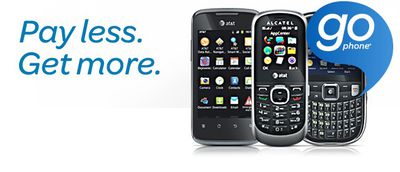 GoPhone will support three service plans for the iPhone, including the high-end $65/month plan that offers unlimited calls and texts and 1 GB of data. Users can also opt for cheaper $25 and $50 plans, but they must purchase separate data packages on top of those plans if they wish to use cellular data.
For iPhone purchases, GoPhone customers can either bring their own off-contract iPhone or purchase one in-store at the full no-committment price. Existing GoPhone iPhone customers will be automatically updated with support for cellular data access on June 21, but support representatives will be able to manually upgrade customers before that time upon request.
The iPhone has been making significant inroads into the U.S. prepaid carrier market, led by Cricket nearly a year ago. Since that time, Sprint's Virgin Mobile brand and AT&T's prepaid brands Straight Talk and Aio have also begun offering the iPhone. Sprint prepaid brand Boost Mobile has also been rumored several times to be launching iPhone support, but has yet to do so.