iPhone Coming to U.S. Prepaid Carrier Cricket on June 22
Cricket Communications today announced that it will begin offering the iPhone on June 22, becoming the first U.S. carrier to offer the device on a prepaid basis with no contract. Service will cost $55 per month and include unlimited voice and SMS, as well as "unlimited" data with a soft monthly cap of 2.3 GB after which speeds will be throttled.
Cricket Communications, Inc., a leading provider of innovative and value-driven wireless services, and a wholly-owned subsidiary of Leap Wireless International, Inc., announced today that it will be the first pre-paid carrier in the US to offer iPhone to its customers. Beginning on Friday, June 22, Cricket will offer iPhone 4S and iPhone 4 with its $55 per-month, all-inclusive unlimited talk, text and data plan. [...]

"Our customers want the best products available and we are excited to bring iPhone to our pre-paid consumers with an industry leading $55 per-month service plan," said Doug Hutcheson, president and chief executive officer, Leap Wireless International, Inc. "Launching iPhone is a major milestone for us and we are proud to offer iPhone customers attractive nationwide coverage, a robust 3G data network and a value-packed, no-contract plan."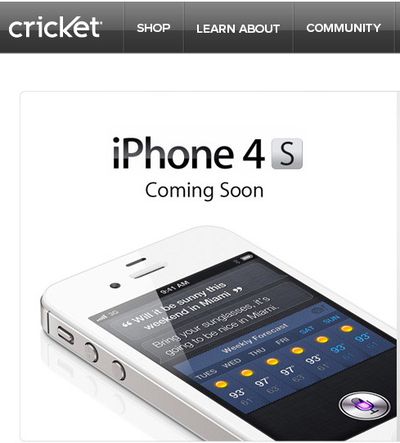 Interestingly, Cricket appears to be offering a partial subsidy on the iPhone hardware, with the iPhone 4 priced at $399.99 and the 16 GB iPhone 4S priced at $499.99. The discounts of $150 off of Apple's standard pricing for unlocked handsets are in place even though customers are not required to sign service contracts.
The iPhone will be offered in Cricket's existing core markets covering over 60 million people. The full list of iPhone markets is included on the carrier's iPhone site.
Cricket has entered into a three-year deal with Apple with a commitment to purchase at least $900 million worth of iPhone hardware over that term. The carrier also intends to carry new iPhone hardware as it becomes available, although company executives were unwilling to directly address whether Cricket would be able to offer new hardware at the same time as other carriers.
Cricket is generally considered one of roughly half a dozen "super-regional" carriers in the United States, with just under 6.2 million customers as of the end of the first quarter. The carrier offers a nationwide network through roaming agreements and its prepaid model offers simple pricing with no activation fees or overage charges.