Corning Announces 'Lotus XT' Substrate Glass for Brighter, Cheaper Mobile Displays
Corning yesterday announced (via Engadget) the launch of its latest glass substrate for LCD and OLED displays, Lotus XT Glass. While Corning is famous for its Gorilla Glass used by Apple and other device manufacturers to provide durable covers for their displays, substrate glass like Lotus Glass is used within the displays themselves to support the transistors and other components necessary for the displays to function.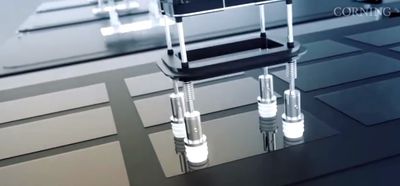 The Corning Lotus Glass platform enables organic light-emitting diode (OLED) displays and liquid crystal displays (LCD) that use either low-temperature poly-silicon (LTPS) or oxide thin-film transistor (TFT) backplanes. The result is an energy-efficient, immersive display device that features high resolution, fast response times, and bright picture quality.
Lotus XT Glass, an improved version of the original Lotus Glass announced in late 2011, offers improved thermal characteristics and stability to help increase efficiency and yield during display production. Lotus XT Glass is available in a variety of thicknesses ranging from 0.4 to 0.7 mm to support various applications.
In an introductory video, Corning vice president John Bayne outlines how Lotus XT Glass will enable better displays with improved yields:
Our customers, the panel makers, are basically making thin-film transistors and aligning those transistors with liquid crystal material and a color filter piece of glass. Everything has to line up just right to work.

The distance features move during processing is called total pitch. And if you measure that from sheet to sheet, it's called total pitch variation. If panel makers can minimize total pitch variation, they can realize higher manufacturing yields and lower costs. In addition, they can design devices that have higher aperture ratios which are brighter and use less power.
It will still take some time for display manufacturers to adopt Lotus Glass XT for use in their processes and for those panels to make their way into finished products, but with Lotus Glass XT offering up to 75% better performance in total pitch variation than the original version, it seems likely that manufacturers will move quickly to adopt the product.