New High-Resolution Photos of iPhone 5S Parts Reveal Little
BGR shares several new relatively high-resolution photos of parts claimed to be from the iPhone 5S. These parts have been leaking to repair firms over the past several months, and a number of photos have already been seen, but the new photos do represent the highest-quality look at these parts so far.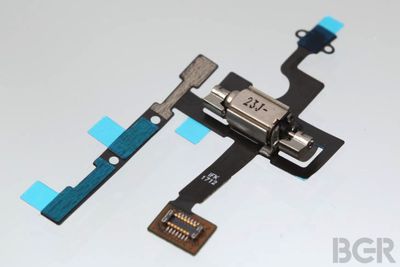 Vibrator/audio control flex cable for iPhone 5S
Unfortunately, the photos reveal little about Apple's plans for the iPhone 5S, as they are minor parts generally seeing relatively small changes compared to their corresponding iPhone 5 parts.
The parts include the loud-speaker bracket, ear speaker bracket, vibrating motor assembly, Wi-Fi flex cable ribbon and SIM card tray from Apple's upcoming seventh-generation iPhone.
Part leaks claimed to be from the iPhone 5S began in January with photos of a speaker enclosure, and have continued with additional photos of the home button and volume/mute button flex cables, front camera flex cable, and nano-SIM card trays. The source of the previous SIM tray leak claimed that the trays were identical to those seen in the iPhone 5, while BGR's report today claims that they are thinner.

iPhone 5S nano-SIM trays
Most recently, just last week an
antenna-related
add-on piece for the iPhone 5S logic board surfaced, although the implications of minor changes observed in the part compared to the iPhone 5 remain unknown.