T-Mobile Raises iPhone Price by $50, Down Payment on iPhone 5 Starts at $150
When 4th-place U.S. cell carrier T-Mobile launched the iPhone last month, customers could purchase it for a $100 down payment with 24 monthly payments of $20 to cover the full cost of the phone.
Now, however, T-Mobile has ended that promotion and the 16GB iPhone 5 has a $150 down payment with the same monthly payments, effectively raising the cost of the phone to $630 from $580 over the life of the plan, TmoNews reports.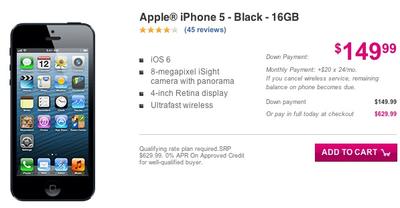 The 32GB and 64GB iPhone 5 models have seen a similar $50 price increase. Buying a 16GB iPhone 5 through T-Mobile is still slightly cheaper than buying an unlocked iPhone from Apple. That phone is $650, though there is no monthly payment option.
Ah T-Mobile, I knew your introductory pricing of $99 down payment wasn't going to last. As of today, T-Mobile will ask well-qualified customers to drop $149 as their down payment instead of $99 as has been the case since the April 12th launch. I don't recall anyone or anywhere telling me the $99 price was only good for one month, but in hindsight I should have seen the writing on the wall.
T-Mobile will continue to take trade-ins of current iPhone models to reduce the down payment required. The company reported last week that it had sold more than 500,000 iPhones in less than a month after launch.