T-Mobile USA's iPhone 5 Sales Hit 500,000 Units
As part of its first quarter earnings release today, T-Mobile USA revealed that its iPhone 5 sales stand at approximately 500,000 units less than a month after the device debuted on the carrier. The carrier also launched the iPhone 4 and 4S in limited markets where the devices are compatible with its networks, but T-Mobile did not specify how many units of those models it has sold.
"Our first quarter operating metrics and financial results are showing positive impact from the changes we began making in the fourth quarter. Branded customer net additions turned positive for the first time since the first quarter of 2009 and our postpaid business has demonstrated significant improvement," said John Legere, President & CEO of T-Mobile. "We ended the quarter with strong operational momentum, which is continuing into the second quarter, driven by the successful launch of our Un-carrier "Simple Choice" service plan and the introduction of the iPhone into our device line-up. Things only get more exciting from here, having brought T-Mobile USA and MetroPCS together to create the wireless industry's value leader and premier challenger."
T-Mobile also announced that success with its Bring Your Own Device campaign continued during the first quarter, adding 100,000 iPhones per month from customers switching to the carrier even before it officially began offering the iPhone.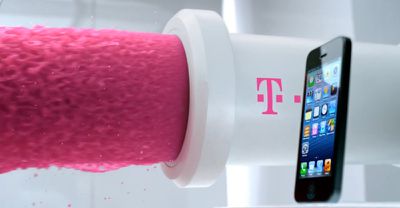 Comparing T-Mobile to other U.S. iPhone carrier launches, Sprint sold
1.8 million iPhones
in its first quarter of availability in late 2011, although that debut took place within the context of the brand-new iPhone 4S launch. Earlier that year, Verizon activated
2.2 million iPhones
in its first two months of availability.