T-Mobile USA Announces Trade-In Offer for Existing iPhone Owners Ahead of iPhone 5 Launch
Ahead of Friday's launch of the iPhone on T-Mobile USA, the carrier has announced details on its trade-in program designed to entice current iPhone 4 and 4S users to switch carriers. The trade-in program reduces the down payment on a 16 GB iPhone 5 from $99.99 to $0, with additional credit of up $120 depending on the value of the device being traded.
"Our message to iPhone 4S and iPhone 4 customers is simple: bring in your device and trade up to iPhone 5 on T-Mobile," said Mike Sievert, chief marketing officer for T-Mobile. "We're making it incredibly attractive to buy an iPhone 5 by pairing an un-beatable upfront price and trade-in offer with Simple Choice, the most hassle-free and affordable rate plan in wireless."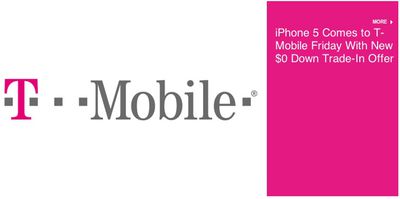 The offer is valid through June 16, with the additional credit applicable to monthly service fees, an outstanding balance, accessories, or another device.
T-Mobile's new "Uncarrier" service plans unbundle device costs from service plans, allowing users to finance the full cost of their devices over 24 months while signing up for contract-free service starting at $50/month.