Apple Again Solicits Cupertino Neighbors for Feedback on 'Campus 2' Project
Earlier this week, Apple filed another revised plan for its "Campus 2" project in Cupertino, a new headquarters for the company focused on a massive ring-shaped building and designed to house 13,000 employees.
In line with that revised plan, Apple has once again solicited residents of Cupertino for feedback on the project now that additional details on environmental sustainability and neighborhood enhancements have been fleshed out. Apple made a similar mailing last May when the project was in an earlier stage of conceptualization.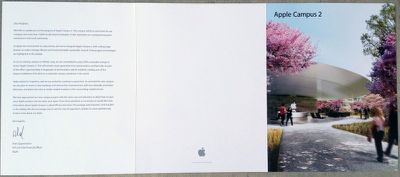 Click for larger
This week's mailing includes a new letter from Chief Financial Officer Peter Oppenheimer outlining some of the highlights of the project for neighbors:
At Apple, the environment is a top priority, and we've designed Apple Campus 2 with cutting-edge features to make it energy-efficient and environmentally sustainable. Several of these green technologies are highlighted in this update.

As at our existing campus on Infinite Loop, we are committed to 100% renewable energy to power Apple Campus 2. This will include onsite generation from photovoltaics and fuel cells. As part of this effort, approximately 8 megawatts of photovoltaics will be installed, creating one the largest installations of its kind on a corporate campus anywhere in the world.

Apple started in Cupertino, and we are excited to continue to grow here. As we build the new campus, we also plan to invest in new roadways and intersection improvements, add new sidewalks and better bike lanes, and plant new trees in newly created medians in the surrounding neighborhood.

Click for larger
As with the previous mailing, Apple includes a postage-paid response card allowing neighbors to provide feedback on the project and invites neighbors to view additional project details on the
City of Cupertino's website
.
(Thanks, Ian!)