Adobe Launches Photoshop Lightroom 5 Public Beta With New Healing Brush, 'Upright' Tool
Adobe today announced the launch of a free public beta of Photoshop Lightroom 5 for both Mac and Windows, offering a peek at the next major version of the company's digital photo management and post-production software. The beta program runs through June 30, with the official release of Lightroom 5 planned for later this year.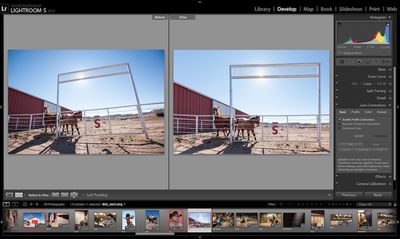 Lightroom 5 Upright tool (Click for full size)
Lightroom 5 beta offers photographers and enthusiasts many new features including:

- Advanced Healing Brush allows customers to heal imperfections and remove distracting elements
- Upright tool analyzes an image to automatically level horizons and straighten objects like buildings to correct a keystone effect
- Radial Gradient tool creates off-center or multiple vignette effects
- Smart Previews allow customers to edit images without needing the original raw file
- Video slideshow enables customers to combine still images, video clips and music in a creative HD slideshow
- Upgrades to the Book module enhancing the ability to create, customize and order elegant photo books using a variety of tailored templates

Lightroom 5 Radial Gradient tool (Click for full size)
Adobe's Sharad Mangalick has more on the new features in a blog post on the company's Photoshop.com Blog.
Adobe has yet to announce pricing or an exact release date for Lightroom 5, which will compete with Apple's Aperture software. Aperture 3 was released over three years ago, but Apple has continued to enhance the software with minor upgrades since that time and slashed the price to $79.99 with the launch of the Mac App Store in January 2011. Adobe responded a year later by cutting Lightroom's price in half to $149 with the launch of Lightroom 4.