Best Buy Reportedly Rolling Out Dedicated Samsung Store-Within-a-Store Concept
Apple has long had a partnership with Best Buy for dedicated "Apple Shop" sections in many of the electronics retailer's stores, but a new report from Geek.com indicates that those Apple Shops will soon be joined by similar Samsung shops, with the upcoming Galaxy S4 launch serving as the impetus for the first round of store rollouts.
Geek.com has been told that the first wave of high traffic Best Buy locations will soon be receiving instruction to remove two aisles next to their mobile department and prepare to install a new Samsung store. This new section will be dressed in large Samsung signage and offer custom demo stations for many of Samsung's products. Locations with the new section will be issuing special training sessions for employees in the mobile department, focusing heavily on how to show off Samsung-specific features.
The report indicates that the Galaxy S4 will be the featured attraction of these shops, although Samsung's full line of smartphones and tablets will be on display.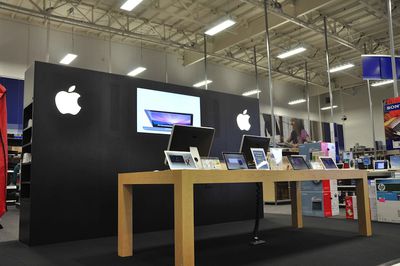 Best Buy Apple Shop
Apple and Samsung have of course become bitter rivals in the mobile device market, with Samsung rapidly establishing itself as the dominant manufacturer of Android-based devices and surpassing Apple in a number of metrics related to the smartphone market. Samsung has been tackling Apple
head-on
with its
advertising
, increasing its
spending
and sparking concerns that Apple needs to
step up its game
.
With the addition of high-profile shops inside Best Buy stores, Samsung has no doubt been able to leverage its recent successes in hopes of continuing that momentum for the Galaxy S4 and its other smartphone and tablet devices.