Samsung Marketing Blitz Outpaced Apple in 2012
Samsung's lead over Apple last year in the smartphone race was helped by a massive marketing blitz, reports The Wall Street Journal.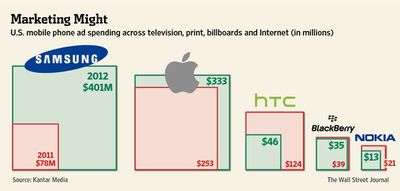 Figures published by Kantar Media showed that in 2011, Apple was outspending Samsung three-to-one in mobile phone advertising (red graphics). Samsung massively increased its phone advertising spending from $78 million in 2011 to $401 million in 2012, 20% higher than Apple's $333 million.
The willingness to spend heavily could prove even more important as the technology gap between rivals narrows.

"They understand how to build a strong product...and have been willing to invest to drive their success," said Michael Sievert, chief marketing officer of T-Mobile USA Inc., a unit of Deutsche Telekom DTE.

To be sure, Apple remains a powerful brand that benefits from its own advertising and ubiquitous references in popular culture. Apple's iPhone is America's most effective mobile phone brand, advertising analytics firm Ace Metrix said in January. But Samsung finished second in phones and was the top technology brand of 2012, said Ace.
Samsung has been running a high-profile teaser campaign for its Galaxy S IV phone due to be launched tomorrow at Radio City Music Hall, and will undoubtedly continue that push with even more advertising to drive sales of the new flagship device.
Just weeks ago, Ken Segall, the creative director behind several of Apple's ad campaigns including the iconic "Think Different" effort, highlighted the effectiveness of Samsung's people-based ads, arguing that Apple needs to step up its game in order to counter Samsung's marketing successes.