Samsung Announces New Flagship Galaxy S 4 Competitor to Apple's iPhone
Samsung tonight announced its flagship iPhone competitor, the Galaxy S 4, at an event at Radio City Music Hall in New York City. The new smartphone is set to launch in April on all four major U.S. carriers.
The new phone gets a slight screen size increase to 5" from 4.8", with a 1080p display at 441 pixels per inch (compared to iPhone 5's 326 ppi) that Samsung is calling "Full HD Super AMOLED." The phone also houses 2 GB RAM, a 2600 mAh battery, a micro SD card slot for expanded storage (in addition to the 16GB, 32GB and 64GB variations) and a rear 13-megapixel camera. There is also a front-facing camera that can record 720p video.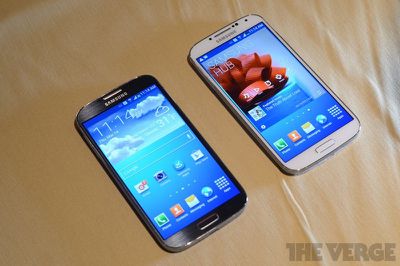 Image via The Verge
Samsung has also added a host of software features, including a navigation app called S Voice Drive that works similar to how Siri and Apple Maps do. Other new software features include a translation app, much like Google Translate, "Air Gestures", and new camera modes. The "Air Gestures" allow a user to flick through photos or preview photos without actually touching the phone.
New camera modes include Cinema Mode, which creates still images with moving backgrounds, Drama Burst, which creates animated GIFs, and Sound and Shot mode, which marries audio to a still photo.
Gizmodo was one of several outlets that received hands-on time with the Galaxy S 4 before Samsung's event, and noted the prevailing sentiment that the device feels like more of the same as an evolution of the Galaxy S III rather than a major leap forward.
There has been a ton of hype and build-up to this device, and ultimately, it left us feeling cold. The S IV feels uninspired. There are small spec bumps from the previous generation and there's a ton of software which will largely sit unused. There's just no wow-factor here.
Samsung did not announce a price for the Galaxy S 4.
Update: Samsung announced at its media event that the Galaxy S 4 will ship with Android 4.2.2, the latest version of the operating system software. Apple's Phil Schiller had slammed Android and Samsung in a Reuters interview earlier this week, in part by suggesting that the Galaxy S 4 would ship with an outdated version of Android.
Schiller said the fragmentation, or the number of versions of the Android operating system out in the marketplace, is a problem.

"And that extends to the news we are hearing this week that the Samsung Galaxy S 4 is being rumored to ship with an OS that is nearly a year old," he said. "Customers will have to wait to get an update."