First Phase of Apple's New Reno, Nevada Data Center Ready to Open
In the middle of 2012, it was reported that Apple was looking at investing up to $1 billion over 10 years to build a new data center and other facilities near Reno, Nevada. Today, AppleInsider reports that Apple's first small data center project in Reno appears ready to go online.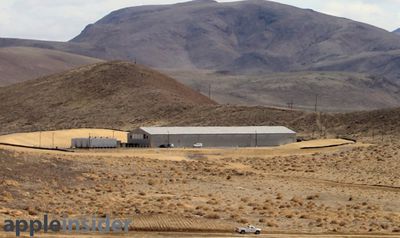 The initial Reno facility is surround by black lamp posts outfitted with cameras, and is staffed with security personnel, although has only basic fencing in place. The simple initial structure is now apparently finished and, according to a person familiar with Apple's plans, is set to go online in the coming weeks.

It is possible that Apple started work on the initial building to serve as a testing center to help in planning the full deployment, including optimization of the site's connection with local power, water and data networks.

The company has 345 acres of land surrounding the building, nearly twice the area of its Prineville project, allowing for vast expansion of both data center buildings and supporting structures, including solar fields.
Apple has two other major data center projects in the works, with the 500,000 square foot Maiden, North Carolina center firmly established and powered by a massive field of solar panels. Construction at the 338,000 square foot Prineville, Oregon center is well underway.