Apple's iCloud and iTunes Match Are Top Cloud Media Services in U.S.
According to a report from Strategy Analytics (via Engadget) Apple's iCloud and iTunes Match are the most frequently used cloud media services, with a combined usage total of 27%.
To get its numbers, Strategy Analytics asked 2,300 Americans the following question: "Have you ever used any of the following online digital locker services which enabled you to store music, video (including TV shows and movies) or games online ("in the cloud" and stream them to an Internet connected device?"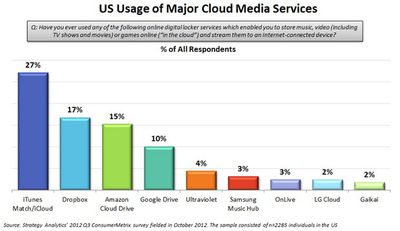 Dropbox came in second at 17% and Amazon's Cloud Drive came in third with 15%. Google Drive came in fourth, with Ultraviolet, Samsung Music Hub, Online, LG Cloud, and Galkai following behind.
The survey revealed that the majority of people (at 55%) had never used a cloud media service at all, and as Strategy Analytics points out, Dropbox, with its second place ranking, is the only service without an associated content ecosystem. Music is a major factor in cloud usage with 90% of Apple, Amazon, and Google cloud users storing music. 45% of Dropbox users use the service to store music.
"Music is currently the key battleground in the war for cloud domination. Google is tempting users by giving away free storage for 20,000 songs which can be streamed to any Android device, a feature both Amazon and Apple charge annual subscriptions for," observes Ed Barton, Strategy Analytics' Director of Digital Media.
Usage of cloud storage is skewed heavily towards younger people, being especially popular among 20–24 year olds. iCloud and iTunes Match were the only services with more female than male users, and Google Drive skewed towards a male subscription base.