Apple Blames High Australian Markups for Digital Content on Media Rights Holders
At an Australian Parliament inquiry into high markups on technology goods and services today, Apple Australia Vice President Tony King blamed rights holders for international price disparities in the company's digital content, according to The Sydney Morning Herald.
"The pricing of this digital content is based on the wholesale prices which are set through negotiated contracts with the record labels, movie studios and TV networks," said Mr King, who is Apple's vice president for Australia, New Zealand and South Asia.
King went on to say that "the content industry still runs with perhaps old-fashioned notions of country borders or territories or markets" and that it creates confusion for customers. He also said that Apple's iTunes pricing in Australia is "comparable to other Australian physical and online stores."
When asked by Labor MP Ed Husic, who is a member of the committee conducting the inquiry, whether Apple could influence the price of digital content in Australia, King said that it was up to the rights holders. King also said that Apple would love to see "cheaper, lower prices in the Australian market," according to News.com.au.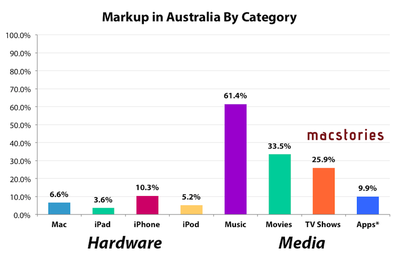 Earlier today, MacStories noted that markups in Australia average as much as 61.4% for music, 33.5% for movies and 25.9% for TV shows when a subset of content offerings is compared to prices in the United States once Australia's Goods and Services Tax (GST) has been accounted for. Markups for Apple's hardware products are more reasonable, with Mac, iPad and iPod prices in Australia generally falling within 10% of U.S. prices. The iPhone line, however, can go as high as a 16% markup for the iPhone 5 and 4S, while the iPhone 4 is actually slightly cheaper in Australia than it is in the United States.
King said that Apple had gone to great lengths to make sure that its hardware products are priced at "parity" in Australia, which takes into account Australian GST as well as the cost of delivering its products to the country.
Adobe and Microsoft were also questioned as part of the inquiry following summonses being issued last month, with Adobe explaining that it charges Australian customers $1000 extra for a software suite because users are receiving a "personalized" service on their local website. Microsoft said its prices, which include a $2000 increase for a software suite, were based on market competition and that users would vote with their wallets if they didn't agree.