Apple, Microsoft and Adobe Required to Explain High Pricing in Australia
Apple is one of three high-profile companies being required to explain to an Australian government inquiry why its product pricing in Australia is significantly higher than in the United States, reports Kotaku Australia. The issue is not a new one for Australian officials, but legislators are stepping up their investigations into prices being paid by Australians.
The action comes after Apple, Microsoft and Adobe had all refused to send representatives to public hearings held by the IT Pricing Inquiry. The government has now issued summonses to all three companies, requiring them to attend and Parliament member Ed Husic warning that legal consequences will follow if they fail to comply.
These firms should have cooperated and been prepared to be more open and transparent about their pricing approaches. [...]

Adobe, Apple and Microsoft are just a few firms that have continually defied the public's call for answers and refused to appear before the IT Pricing Inquiry.
Apple's pricing does vary significantly by country, although comparisons often do not take into account taxes that are included in the base price in many countries but not in the United States. Different products also vary in their pricing comparisons across countries.
For example, the base 27-inch iMac is priced at $1799 in the United States, A$1999 (US$2054) in Australia and £1499 (US$2352) in the United Kingdom. But when subtracting included taxes from the international pricing, the iMac comes in at A$1817 (US$1867) in Australia and £1249 (US$1960) in the UK, for price premiums of 3.8% and 8.9% respectively.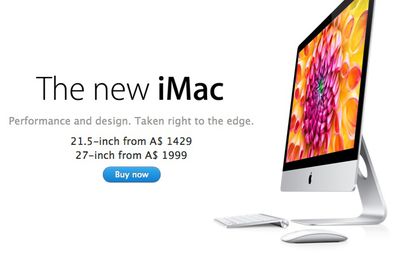 For the 16 GB Wi-Fi iPad, the difference is even smaller once taxes have been accounted for, with the device priced at $499 in the United States, A$490 (US$503.38) in Australia and £332.50 (US$521.66) in the UK for price premiums of 0.9% in Australia and 4.5% in the UK.
iTunes Music Store pricing shows a much greater disparity for Australian customers, with tracks that sell for $1.29 in the United States being priced at $1.99 before tax in Australia.
Apple has traditionally priced its products somewhat higher internationally even when accounting for taxes, due in part to increased cost of business in many countries relative to the United States and as a buffer against fluctuating currencies. Customers and government officials in many of these countries feel, however, that pricing is still too high, particularly for digital content such as downloadable music and software that does not incur many of the overhead costs associated with physical goods.
The Australian Financial Review reports that Apple had testified in private on the matter, but had refused to do so at the public hearings. It cited IBRS analyst James Turner as commenting that this was part of Apple's long-established approach to secrecy:
It's a carry-over from the cult of personality that Steve Jobs built up around himself. People can call it arrogant, but that's only because Apple's way is different and they keep getting away with it. I also think that the refusal to engage will be what ultimately undermines Apple.
The public hearing is scheduled for March 22.