Apple Tops Fortune's 'Most Admired Companies' List For Sixth Year Running
Apple has won the number one slot in Fortune's annual "World's Most Admired Companies" list for the sixth year in a row.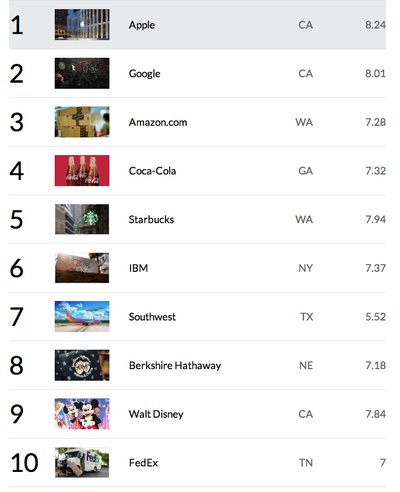 The ranking is based on a large-scale poll of corporate executives, directors, and industry analysts who were asked to rank companies by nine key attributes: Innovation, People management, Use of corporate assets, Social responsibility, Quality of management, Financial soundness, Long-term investment, Quality of products/services and Global competitiveness. Apple scored #1 in all nine categories.
Apple has had a rough time lately with its stock price in a free fall and the widely publicized failure of its Maps feature. However, it remains a financial juggernaut, posting $13 billion in net income last quarter, making it the most profitable company in the world during that period. The company has its fanatical customer base, and it still refuses to compete on price, making the iconic iPhone and iPad products that are still widely seen as prestige devices. Competition may be stiff, but so far it remains behind: In Q4 2012, the iPhone 5 was the world's best selling smartphone, followed in second place by the iPhone 4S.
The announcement is a bit of an embarrassment for Brad Chase, founding partner of Capitol Media Partners, who wrote a Forbes guest post earlier this week predicting that "bumbling" Apple would lose its number one slot and arguing that Fortune would have to "defy logic" to place Apple at the top once again. Confusion between Fortune and Forbes led to Chase's opinion piece being misreported by several media outlets earlier this week as Apple having actually lost its slot in a Forbes ranking.