U.S. Mac Sales Surge in January as iMac Orders Pick up Steam
Piper Jaffray analyst Gene Munster today issued a new research report sharing data from research firm NPD covering Apple's U.S. Mac sales for the month of January. According to NPD's data, Mac sales were up a strong 31% year-over-year for the month.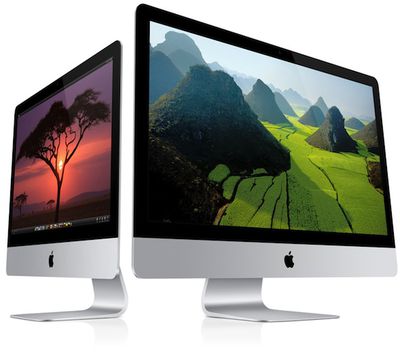 Munster attributes the strong performance to Apple finally being able to roll out orders of the new iMac, even as the company remains significantly constrained with multi-week waits for new orders through its online stores. Apple announced the new iMac in late October of last year, but did not begin taking orders until the end of the November with the larger 27-inch models not arriving until several weeks later.
We have analyzed domestic NPD retail data for the month of January which suggests Mac sales were up 31% y/y through the first month of the March quarter. We believe the reason for the significant improvement in the sales data is primarily due to Apple catching up with iMac supply, which the company noted to be constrained in the December quarter. CEO Tim Cook noted that iMac sales were down 700k units y/y in December (we note iMac sales are likely far less impacted by iPad, thus the vast majority of the y/ y unit decline is likely supply).
It remains to be seen if the strong sales will hold up for the remainder of the quarter, and thus Piper Jaffray is maintaining its estimate of a 5% year-over-year decline for the full quarter when global sales are considered.
NPD's data also reveals a bit of a surprise for the iPod, showing U.S. unit sales up 3% year-over-year and revenue up 2%. Piper Jaffray has been modeling for a 17% decline in total iPod sales for the quarter as the device continues to lose favor with consumers shifting music consumption to smartphones. But even a strong showing for the iPod is unlikely to have a significant impact on Apple's bottom line, as the line represented just 4% of Apple's sales in the holiday quarter, typically the strongest one for iPod sales.