HP Reenters Tablet Market With $169 Android-Based 'Slate 7' as LG Acquires WebOS for TVs
Two years ago, HP was viewed as potential major tablet competitor for Apple and the iPad, with the company's 2010 acquisition of Palm allowing it to debut its webOS-based TouchPad in early 2011. The TouchPad turned out to be a flop, however, until the company lowered pricing to $99 in order to clear out stock, and HP quickly decided to exit the smartphone and tablet markets and turn webOS into an open source project.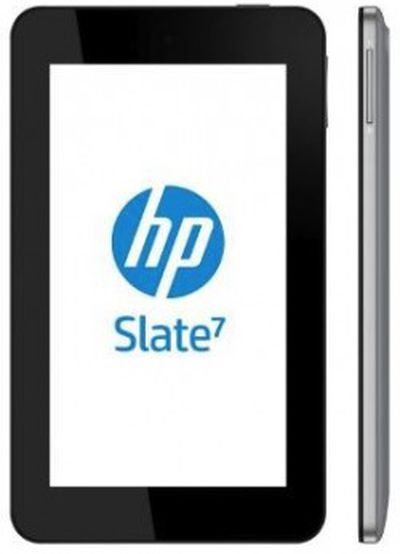 HP is now jumping back into the tablet game, announcing yesterday an April U.S. launch for the HP Slate 7, an Android-based tablet carrying a $169 price tag.
With a 7-inch diagonal screen and weighing 13 ounces, the HP Slate 7 is an ideal trusted personal companion, featuring a stainless-steel frame and soft black paint in gray or red on the back. It also is the industry's first tablet to offer embedded Beats Audio, for the best-sounding, richest audio experience available on a tablet. [...]

Powered by an ARM Dual Core Cortex-A9 1.6 GHz processor, the HP Slate 7 is fast and responsive. Integrated wireless allows customers to access email, the internet and key applications, while the High-aperture-ratio Field Fringe Switching (HFFS) panel offers wide viewing angles that provide easy viewing of documents, games, photos and videos—even in outdoor lighting conditions.

The HP Slate 7 includes a 3-megapixel camera on the back and a VGA camera on the front for chatting, videos and photos.
As noted by The Verge, HP's new Slate 7 is just the first of many tablet models set to launch this year, with HP recognizing that it needs to be in the rapidly growing tablet market if it wants to retake the lead from Apple in the increasingly combined PC/tablet market.
"HP is the number one PC manufacturer in the world, and we want to be the number one computer vendor in the world. That means we need to be in the tablet space."

That's Alberto Torres, the man tasked with making it happen. [...]

"On the tablet side, it's entirely our intent to have a broad set of products on the market... to cover more segments of the market we'll need more products, and you'll see us aggressively pursue that over the year."
HP's return to the tablet market with Android comes just as the company has agreed to sell webOS to LG, which plans to use the operating system for its smart televisions, as reported by CNET.
With the deal, LG obtains the source code for WebOS, related documentation, engineering talent, and related WebOS Web sites. LG also gets HP licenses for use with its WebOS products, and patents HP obtained from Palm. The financial terms of the deal weren't disclosed.
LG remains focused on Android for its smartphones, but views webOS as a promising platform for television. According to an October report from webOS Nation, LG and Gram, HP's subsidiary set up to oversee webOS, had already been working together on the webOS television project, and it now appears solid enough that LG has decided to acquire webOS entirely.