Microsoft Surface Pro Earns Repairability Score of 1/10 from iFixit
The iFixit team today tore apart the Microsoft Surface Pro, which began showing up in stores last week, to reveal what's inside of the PC/tablet hybrid. Microsoft has touted the Surface Pro's power and compact design, which has come at the cost of easy consumer access to the device.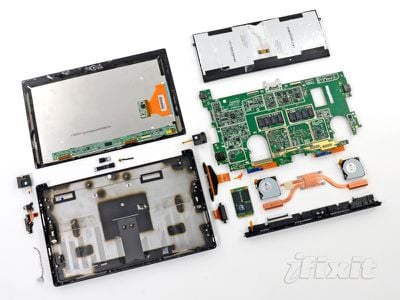 As it turns out, the Surface Pro is sealed with what iFixit termed "a metric duckload" of adhesive, which took more than an hour to overcome.

We tried every method we could think of to free the display, including cutting the adhesive — to no avail. This Pro required a pro method, and thankfully we had the required heat gun and guitar picks ready.

The black glue we found around the perimeter looks like tar, and is unbelievably close in function, appearance, and smell to its road-paving cousin.
Because of the adhesive, which holds both the battery and the display in place, and the more than 90 screws that hold the Surface Pro together, the tablet earned itself a repairability rating of 1/10. As TechCrunch notes, that is even less than Apple's iPad, which scored a 2/10 in repairability.
The battery is not soldered to the tablet so it is technically removable, but iFixit warns that removing the battery or upgrading the SSD might kill the tablet because of the proximity of several cables. Other highlights of the teardown include:
The removable Micron RealSSD C400 we found inside is responsible for the 64 GB of storage capacity. The tiny 1.8″ form factor SSD can read at 500MB/s and write at 95 MB/s. Digging a little deeper, we found that a Marvell 88SS9174 SSD processor keeps all those Micron flash ICs running smoothly.


This Surface Pro is all party in the front, business in the back — cooling business that is. Two small fans help this Pro keep its cool.

Microsoft spared no expense when it came to keeping the Surface Pro going. They sourced the Cadillac of batteries from LG: an Escalade 42 Wh unit. The battery is rated for 7.4 V and 5676 mAh. Impressive specs? Note that the iPad 4 has a 43 Wh battery, albeit at 3.7 V. Even with all this battery juice, the reported battery life of the Surface Pro is less than 5 hours.
iFixit declared some of Microsoft's choices, like the glued-in battery "completely unnecessary." Apple's products have been similarly criticized by the site in the past, such as the 15-inch Retina MacBook Pro, which also received a repairability score of 1 out of 10.