Apple Launches 128 GB iPad with 1-3 Day Shipping
Following last week's announcement, Apple today began offering the 128 GB iPad in the Apple online store with shipping currently listed at 1-3 business days for most models in most countries. Wi-Fi + Cellular models in the United States are currently being quoted 3-5 business days for shipping across all three carriers.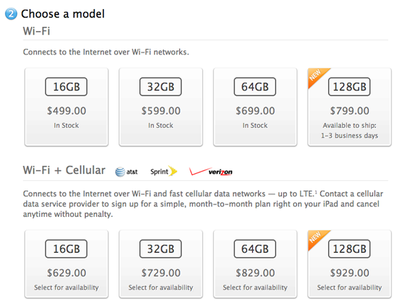 The new model, offering double the storage capacity of the previous top-of-the-line model, carries a $100 premium over the 64 GB versions and is available in all four combinations of black/white and Wi-Fi/Wi-Fi + Cellular models.
After supply constraints dogged both the new iMac and iPad mini, analysts will be watching closely to see how Apple manages supply times for the latest addition to the company's product line. Stock levels have, however, generally been good on the full-size iPad, which has reportedly seen a significant drop in demand as consumer interest has shifted to the iPad mini.